McTeggart Irish Dancer Recital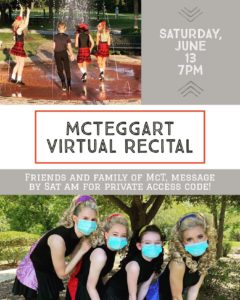 Join the McTeggart Irish Dancers for their annual fundraiser and recital!
Grab some snacks and beverages and join us for our online recital premier viewing from the comfort of home!
Our dancers have shown commendable perseverance over the last 12 weeks, dancing and learning via Zoom and Google Classroom. Help us acknowledge their dedication and celebrate our 25% capacity return to the studio!
Send us a message on Facebook or complete the Contact Form to get login information.