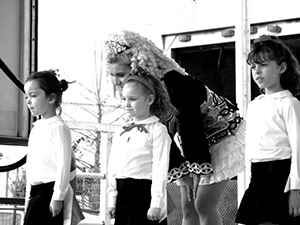 The McTeggart Irish Dancers of South Texas (MIDOST) is a not-for-profit organization recognized as tax-exempt under Internal Revenue Code section 501(c)(3). MIDOST teaches traditional Irish dance to students from all over Houston and the greater Houston area through the McTeggart School of Irish Dance. We support McTeggart dancers attending Regional, National, and World Championship competitions. We also promote awareness of Irish culture and dance through performance demonstrations and sponsoring the Heart of Texas Feis each February and Irish Rose of Texas Feis over Labor Day Weekend.
The McTeggart School of Irish Dance offers instruction in traditional Irish Step Dancing from beginner through championship levels. Weekly Instruction is provided by Jennifer Hale, TCRG. Anne Hall, ADCRG and Pat Hall, ADCRG also conduct periodic workshops throughout the year.
The McTeggart School of Irish Dance was established in 1939 in Cork, Ireland. The first director was Peg McTeggart the eldest of four sisters, all of them champion dancers. The school soon spread throughout County Cork due to the efforts of younger sister Maureen McTeggart Hall. In 1958 Maureen and her family immigrated to the United States, bringing with them the art of Irish dancing, introducing it to the Western Region of the United States by establishing schools in Fresno, California and the San Francisco Bay area. She has since established more than a dozen schools in Arizona, Utah, Colorado, Texas, New Mexico, Kentucky, Oklahoma, and Louisiana. Maureen's daughters, Pat and Anne Hall, are also certified Irish dance instructors and adjudicators. The McTeggart School of Irish Dance is one of the most respected schools in the nation, with dancers consistently qualifying for the World Championships.
Contact Us
Online:
Complete the General Enquiries Contact Form to get in touch with the McTegart Irish Dancers of South Texas!
Telephone:
(832) 209-2106
Mail:
Send mail to the following address:
McTeggart Irish Dancers of South Texas
P.O. Box 131542
The Woodlands, TX 77393-1542
Location:
Our studio is located at:
701 E Main Street, Suite 175
Tomball, TX 77375